Sumonar Fest2020 に招待され、インドネシアの皆さんに我々の制作プロセスについて紹介する動画を作成いたしました。我々Sunnana Inc.はストーリーを大切にし、ひとつひとつの作品を丹念に紡ぎあげていきます。
Hello
This is Sato, the director of Sunnana Inc.
Today, I would like to briefly introduce the production process of our new Kotonoha.
As the theme this time was Mantra Lumina, we started the production by facing this "Mantra".
We at Sunnana spend an especially large portion of our total production time in creating stories and concepts.
This is done by discussing with Yoshida of sound and constructing not just on how we show it, but also the way of thinking and the background story.
After that, the production of the video and music starts at the same time respectively, and first of all, each of them will create a result that is in accordance to the story.
Then, during the production process, the two will approach each other and cross the content to complete it as a single work.
The ability to create sound from scratch, I believe that is one of the strengths of Sunnana.
Also, regarding the video, one of the theme of Sunnana's expression is mirror.
Among them, we feel a great charm from the so-called infinity mirror, and it is used in various works. In Japan, when we were little, there was a scary story that if we look into an infinity mirror at midnight, it will show the reflection of the past or future.
We are attracted to this mysterious episode of connecting the past and the future. Also, the diffuse reflection of mirror exceeds the prediction of people, so we feel the universe in the kaleidoscope-like contingency.
In addition, perhaps it is partly because there are only 2 team members, but the pursuit of simple beauty is also one of the themes. For it to be beautiful as a painting. We try to make it consciously.
With all that said, please look forward to the screening of Kotonoha made by Sunnana Inc.
Thank you.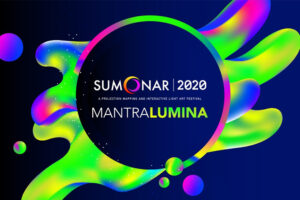 Sumonar Fest 2020 Mantra Lumina
Sumonar Fest 2020 Mantra Lumina SUMONAR FEST 2020 to be held in Yogyakarta, Indonesia : "MANTRA Invited to "LUMINA" as Sunnana Inc. and presented a new work …